Back to Products
Astro Original Kefir Probiotic Strawberry 500 G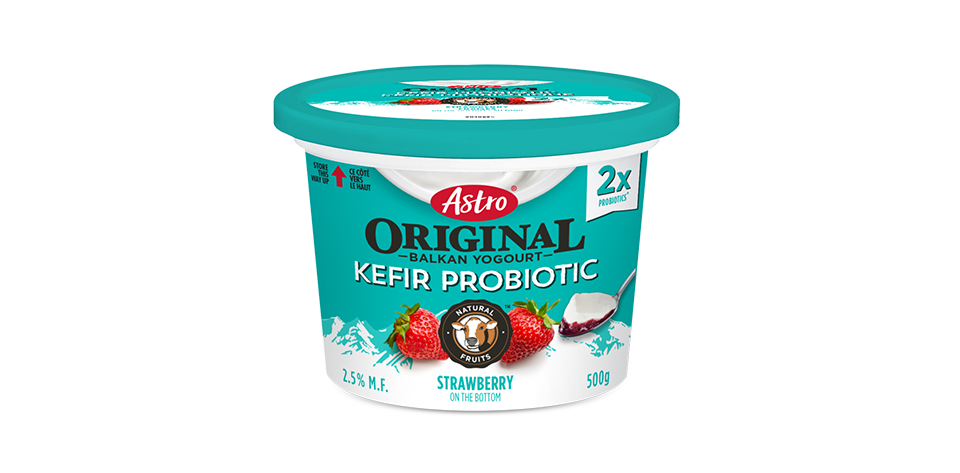 new
Product Details
Naturally thick, creamy, yogourt with strawberry fruit on the bottom and 2x the probiotics*.
Spoonable Kefir probiotic yogourt
Contains over 2 billion Kefir probiotic cultures Lactobacillus acidophilus NCFM, Bifidobacterium lactis Bi-07, per 125 g serving, that contribute to healthy digestive tract flora
Real Fruit
Good source of calcium
No Gelatin
Kosher
*Contains 2 billion active probiotic cultures per 100g serving versus 1 billion active probiotic cultures in leading probiotic yogourt as per AC Nielsen data, period ending Dec 8, 2018.
Astro Original Kefir Probiotic yogourt contains more than 109CFU Lactobacillus acidophilus and 109CFU Bifidobacterium lactis per 175g serving that contribute to healthy gut flora.
Ingredients
Skim milk, Cream, Sugar, Water, Strawberries, Skim milk powder, Rice starch, Pectin, Natural flavour, Black carrot juice, Lemon juice concentrate, Active bacterial cultures.