Back to Recipes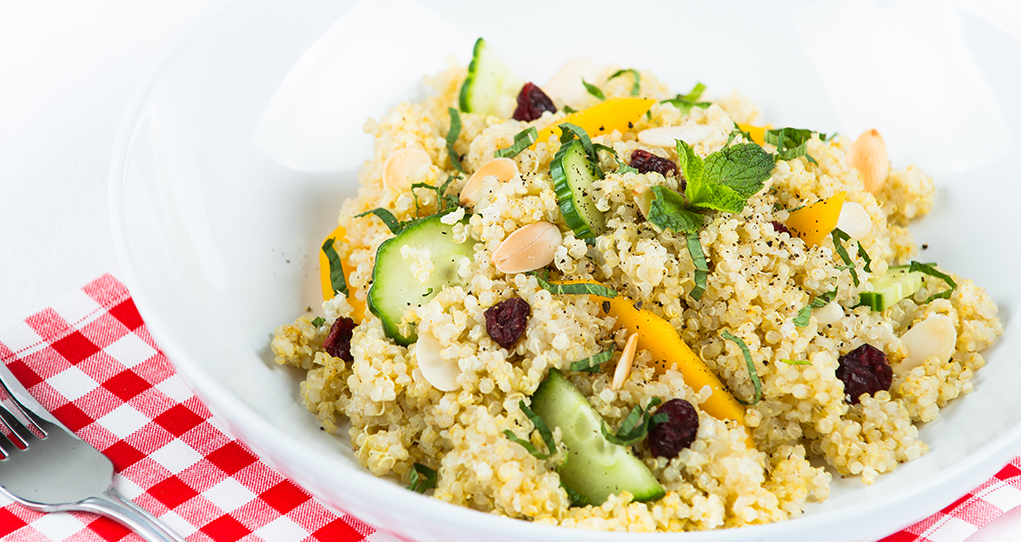 Ingredients
1½ cups (370 g) quinoa
3 cups (750 mL) low sodium vegetable stock
1 cup (150 g) sliced cucumber
1 cup (150 g) sliced mango
¼ cup (40 g) dried cranberries
2 tbsp (30 mL) freshly chopped mint
2 tbsp (30 mL) toasted sliced almonds
1 tbsp (15 mL) curry powder
½ cup (125 mL) Astro® Original Balkan Plain 2% yogourt
2 tbsp (30 mL) canola oil
2 tbsp (30 mL) rice wine vinegar
2 tbsp (30 mL) honey
Salt and pepper
Preparation
To make the dressing, whisk together curry powder, Astro Original yogourt, canola oil, vinegar, honey and season with salt and pepper. Set aside.

Meanwhile, bring vegetable stock to a boil. Add the quinoa and ¼ tsp salt and simmer for 15 minutes covered or until liquid is absorbed. Turn off the heat and let quinoa sit for 10 minutes covered. Fluff with a fork.

While the quinoa cooks, prepare the remaining salad ingredients. Let quinoa cool slightly, toss with dressing. Transfer quinoa to a serving bowl and top with cucumber, mango, cranberries, mint and almonds. Sprinkle with freshly ground pepper.