Back to Recipes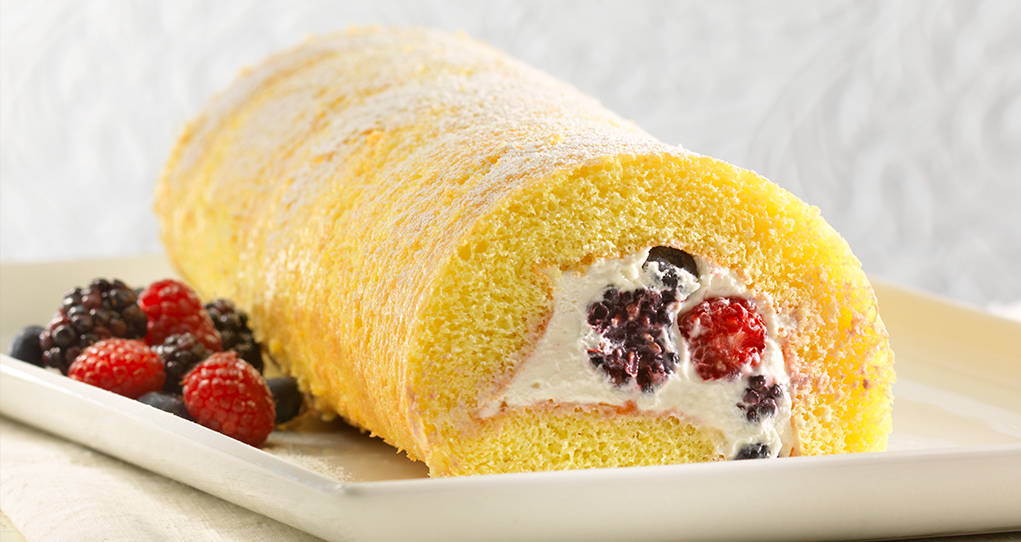 Ingredients
8 eggs
1 cup (250mL) granulated sugar
2 tsp (10mL) lemon or orange zest
2 cups (500mL) self-rising flour, sifted
1/4 cup (60mL) apricot or peach jam (optional) 

1 cup (250mL) Lactantia® 35% Whipping Cream
2 cups (500mL) Astro® Original Balkan Vanilla yogourt, strained *
2 cups (500mL) mixed fresh berries
Icing sugar
Preparation
Preheat oven to 425°F (220°C). Line the bottom of a 16 –x 11.5-inch (40 x 30 cm) rimmed baking pan with parchment paper.

In a large bowl, with an electric mixer, on medium- high speed, beat eggs, sugar and zest until light yellow in colour and frothy. Add flour and gently fold into egg mixture.

Pour batter into prepared pan, spreading batter into corners. Bake for 10 to 15 minutes or until lightly golden and pulling away from the sides of the pan. Carefully release edges of cake with a serrated knife.

Place a clean tea towel on your working surface and dust with icing sugar. Turn baking sheet onto towel so that cake is released and the bottom of your cake is now the top. Remove parchment paper. While hot, roll up cake in tea towel, starting from narrow end. Let cool.

To assemble, place a piece of parchment on work surface and unroll cake. Spread with jam, if using. In a large bowl, gently fold 1/3 of the whipped cream into the strained Astro Original Balkan Vanilla yogourt to lighten. Fold in remaining cream and berries. Spread mixture over the cake leaving a 1–inch (2.5 cm) border around the sides and 2–inch (5 cm) from the top. Carefully roll the cake using the parchment paper to help you roll until seam is under the cake. Dust with icing sugar just before serving.
Tip: Strain yogourt using a yogourt strainer or line sieve with 4 layers of cheesecloth; set over bowl. Add yogourt; drain in refrigerator for 1 hour. Discard accumulated liquid.