Back to Recipes
Peanut Butter Chocolate Cake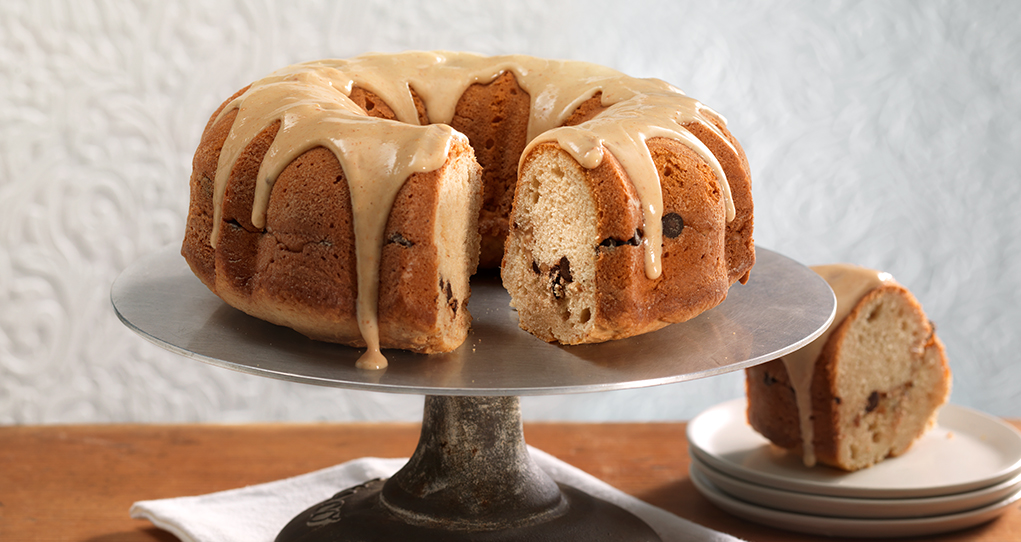 Ingredients
3/4 cup (175mL) Lactantia® Unsalted Butter, softened
1/2 cup (125mL) natural smooth peanut butter
1 cup (250mL) granulated sugar
2 tsp (10mL) vanilla extract
3 eggs
11/2cup (375 mL) Astro® Original Balkan Plain 6% yogourt
1/2 tsp (2mL) baking soda
3 cups (750mL) all-purpose flour
3 tsp (15mL) baking powder
1/2 cup (125mL) unsalted roasted peanuts, chopped
1/2 cup (125mL) dark chocolate chips
Drizzle:
1/4 cup (60mL) Astro® Original Balkan Vanilla yogourt
2 tbsp (30 mL) icing sugar
2 tbsp (30 mL) natural smooth peanut butter
Preparation
Preheat oven to 350°F (180°C). Lightly grease a 10-inch (3 L) Bundt pan.

In a large bowl, with an electric mixer, beat butter, peanut butter, sugar and vanilla until smooth. Beat in eggs, 1 at a time, beating well after each.

In a small bowl, whisk yogourt and baking soda; set aside. In a medium bowl, whisk flour and baking powder. Add flour mixture and yogourt mixture alternately to butter mixture, beating on low speed until just incorporated.

Spoon half the batter into prepared pan. Sprinkle peanuts and chocolate chips evenly on top of the batter; spoon remaining batter on top and level with a spoon

Bake for 55 minutes or until tester inserted into the middle of the cake come out clean. Let cool in pan on rack for 20 minutes. Turn out onto rack to cool completely.

Drizzle: In a small bowl, combine yogourt, icing sugar and peanut butter until smooth. Drizzle over cake and serve.
Tip: Sprinkle icing with chopped peanuts for added crunch! Switch peanuts and peanut butter with almonds and almond butter for a wonderful version of this cake!