Back to Recipes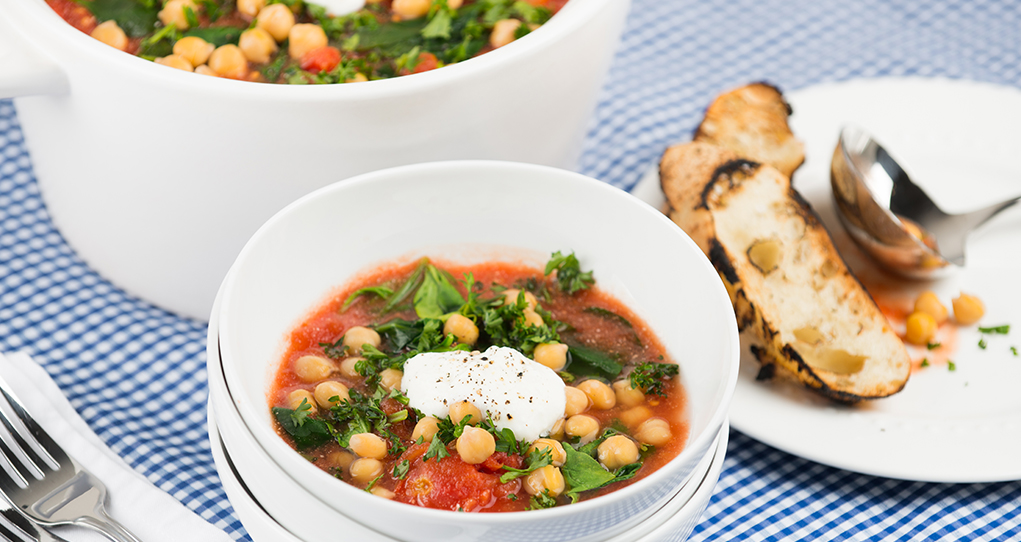 Ingredients
1 tbsp (15 mL) extra virgin olive oil
1 sweet onion, thinly sliced
1 garlic clove, minced
1 tsp (5 mL) dried basil
1 bay leaf
1 - 19 oz (540 mL) can chickpeas, drained and rinsed
1 - 28 oz (794 g) whole peeled tomatoes
2 cups (500 mL) low sodium vegetable stock
4 cups (180 g) packed baby spinach
1 cup (250 mL) Astro® BioBest® Plain yogourt
Salt and pepper
1 tbsp (15 mL) freshly chopped parsley
8 slices toasted baguette, for serving
Preparation
Heat oil in a large saucepan over medium heat. Add the onions and garlic and cook until softened, about 5 minutes. Add the basil, bay leaf, and chickpeas; stir for 1 minute.

Pour in tomatoes with juices and stock. Bring to a boil then reduce heat to a simmer for 10 minutes. Stir in spinach, ½ cup Astro BioBest yogourt and season with salt and pepper. Cook until spinach has wilted and yogourt is completely incorporated.

Before serving, lightly toast baguette slices. Remove and discard bay leaf from stew. Divide stew between bowls and serve with a dollop of Astro BioBest yogourt, freshly chopped parsley and toasted baguette.